---
N e w s
---
Music:
three stories
bloody circus
---
Souls
---
Photo Chamber
Posters
---
Art-Gallery
paintings
comic strips
graphics
clipart

---
Stories:
amontillado
---
Stuff:
Links
---
Forum
---
Contact
e-mail
---
personal files
Andrei Bakhurin (1973 - 2047)
vocals, voices, lyrics and art works
I died twice and was ressurected both times. I have two higher educations and that's enough for the number 2 in my life. Everyone who has known me since I was a kid was convinced that my destiny would be the glory of a great painter. I, however, have always had a great doubt about who I really like to become.
I tryied many many different jobs including the position of translator for the Canadian medical clinic at some oilfild in Western Siberia, participation in the Dr. James Thoene crusade for bald cats and, of course, singing in the RE-PULSE band. Although the last job can hardly be considered as a "place of work", it is still one of the few places I haven't been fired from yet. At the present moment I am developing my first video movie project, participating as a stage director in the Bastonada Orchestra and prefere walking rather than using public principles is that the risk of getting thrombophlebits can never be the reason to give up smoking.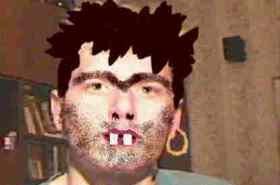 Anton Mikhailov (September 9, 1974)
electric bass
From 1991 to 1997 I studied at the Leningrad Electro Technical Institute where I became a punk rock addict. Now I'm a postgraduate student at the same institute. I work as a computer programmer at the Electrotechnical Navigation Scientific Center.
I have always been crazy about music. It's very understandable: my dead devoted fifteen years of his life to Rock'n'Roll (he played bass in his own band called "Stranniki"). So since I was 4 or 5, I got myself hooked on to my father's favorites: Deep Purple, Uriah Heep, Rainbow, Queen, Black Sabbath and Pink Floyd. In the late 80's I was a permament visitor of the music black market in Ozerki (Andrey too, by the way) and collected original records of different hard rock bands.
This happy ignorance lasted until 1992 when I suddenly switched to punk, post punk and alternative (I was particularily impressed by the Velvet Underground, The Stoogies and Joy Division). It was about those times when me and A. Koroliov (who had already played in "Bochonok Amontillado") planned our own project and, finally, orginized a band. This band screweed up in 1994, our drummer and vocalist found themselves more serious jobs, and A. Koroliov returned to "Bochonok Amontillado" (where he was sacked from in eighteen months for his fascist tricks anyway). I sacrificed my room in the student campus to the Amontilladers rehearsals. But then their bass player Masha married some guy all of a sudden. Her place didn't stay vacant too long, though. I've become a full member of the band and I'm very happy with this as well as the rest Amontillado themselves.
In those times my favorite bands were Siouxsie & The Banshees, Violent Femmes, Element of Crime, Dead Can Dance.
Now, being influenced by Gromov and Schultz, I gave myself up to jazz and funk (Weather Report, Chick Corea Quartet, Miles Davis, Freak Power). But good old Violent Femmes and Peppers still pull my strings all the same.
My favorite bass player is Mick Carn.
Apart from my activity in Amontillado I also played bass in the folowing projects:
Drug Vsekh Druzei (1993) - punk
Skinny Flute (1994) - alternative
Blood 13-th steps (1995) - commercial post punk
Voron (1997) - pop music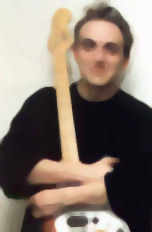 Fiodor Gromov (September 28th, 1973)
Guitars
See a comic strip about me
and visit my Gallery
and see my scary doll
I graduated from the University the same year with Andrey, but we studied at different departments. I have MA in the History of Fine Arts. I am not a professional musican. Various guitar players have taught me to drink beer and get plastered quickly. Besides that, I've managed to learn few primitive blues cliches and use them successfully whenever I can. I am influenceda lot by jazz, and, if you wanna know my opinion, I'm positive that the best way to learn guitar is listening to jazz musicans, such as: Al DiMeola, John McLaughlin, Django Reinhard, George Benson, Wes Montgomery and many others too. I consider Jimmy Hendrix the most awesome guitarist of all times and nations.
I started playing guitar since I was 14. My approach to music, however, became more serious after one incident. In 1992 I played at the Bastonada studio at Tamtam club with A. Emeyanov and Shultz. While we were having a break after one session, Schultz went to have a leak, and Emelyanov told me something that became a basic principle in my creative life. "If Schultz is zero in comparence with me, he said, who do you think you are then?..." I came home that night and, for the first time in my life, started to play consciously the C major scale.
And I also "appreciate" a lot Andrey T. Bakhurin inviting me to come onstage with him for the first time, so it has determined my whole life. It can only be compared to drug addiction.
I participated in the following projects during my short life in music: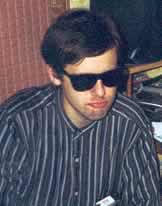 Dmitry Tovstopiat (9/23/71)
drums

Drums have always been my obsession just like for any other drummer. I've started playing it behind my parents' backs. The first attempts were immitation of the Beatles and Deep Purple. Then in the high scool I recorded selfmade tapes with my friends. Since 20 I played in a number of bands; then I attended some musicall colledge for a while; Experimented as a percussionist for a street band and professional drummer at some latin-style restaurant. I'm currently taking drum lessons. My general area of interest is what is usually called "jazz". I'm trying to attain my solo career ambition as well as participate in various pop projects.

My favorite drummers are: Jack DeJohnette, Elvin Johnes and Roy Haynes.
| | |
| --- | --- |
| | The Amontillado band (originally - the Cask of Amontillado) was organized in 1991 by Andrei Bakhurin and Egor Roldugin. |