---
N e w s
---
Music:
three stories
bloody circus
---
Souls
---
Photo Chamber
Posters
---
Art-Gallery
paintings
comic strips
graphics
clipart

---
Stories:
amontillado
---
Stuff:
Links
---
Forum
---
Contact
e-mail
---
Anton Mikhailov Gallery
Lioness (bust)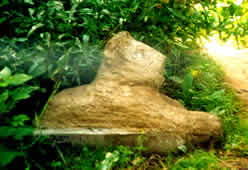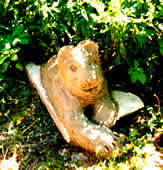 materials used: clay, cement, sand, bronze paint
background history: It was summer 2002. Staying at his grammy K's home in the country, the Author was up to fixing the old concrete threshold. But, resulting from his mix up with materials, the threshold's casing was fixed with suspicious blue-grey mixture, that turned to be 40% clay solution. However, the Author figured it out not earlier than the next day when the solution didn't fasten. Moreover, it kept a runny condition during the week after. Finally the threshold was rebuild, and the Author used the waste stuff to produce a garden sculpture. Fortunatelly, the waste was in access.
The Author's origiginal idea was to cast Sphinx, but the clay was too pliable, so the attempts to sculpture a human face led to no avail. Finally it became a lioness lying idly in the bushes. Just like a siesta time in the middle of the African summer.
In the winter the Lioness will be covered with a wodden box for preservation.
Glass Stand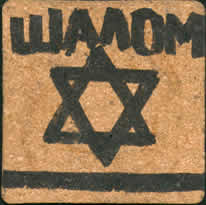 materials used: cork, permanent marker (manufactured by the Bic Company, France)
description: this work has been inspired by the NOM and John Zorn's music. It is perfect for use in office or on family celebrations. This stand is considered to be number one in the future family of office-designed accessories.